Product Description
| SKU | Cable Length | Retail Price | Our Price | Savings | |
| --- | --- | --- | --- | --- | --- |
| tel-SS13710 | 10' | $246.33 | $155.19 | You Save 37% | |
| tel-SS13711 | 11' | $246.33 | $155.19 | You Save 37% | |
| tel-SS13712 | 12' | $246.33 | $155.19 | You Save 37% | |
| tel-SS13713 | 13' | $246.33 | $155.19 | You Save 37% | |
| tel-SS13714 | 14' | $246.33 | $155.19 | You Save 37% | |
| tel-SS13715 | 15' | $246.33 | $155.19 | You Save 37% | |
| tel-SS13716 | 16' | $246.33 | $155.19 | You Save 37% | |
| tel-SS13717 | 17' | $246.33 | $155.19 | You Save 37% | |
| tel-SS13718 | 18' | $246.33 | $155.19 | You Save 37% | |
| tel-SS13719 | 19' | $246.33 | $155.19 | You Save 37% | |
| tel-SS13708 | 8' | $246.33 | $155.19 | You Save 37% | |
| tel-SS13709 | 9' | $246.33 | $155.19 | You Save 37% | |
| tel-SS13720 | 20' | $246.33 | $155.19 | You Save 37% | |
| tel-SS13721 | 21' | $283.90 | $178.86 | You Save 37% | |
| tel-SS13722 | 22' | $249.49 | $190.10 | You Save 24% | |
| tel-SS13723 | 23' | $256.24 | $195.25 | You Save 24% | |
SeaStar Solutions Safe-T Quick-Connect Rotary Steering System - SS137
Safe-T QC offers the quick response of the three-turn steering and easy installation with a patented, no tools requires cable connection at the helm.
---
Traditional SeaStar Solutions mechanical steering is still the choice for sterndrives, inboards and other power assisted applications. It's just right for power steered boats in which No FeedBack™ systems are not required
The Safe-T Quick Connect Steering System cuts installation time in half and occupies a minimum space behind the dashboard. The unique design of this safe, reliable system requires no tools for installation and has the nut trapped on the engine end to prevent losing it during hook-up. Features a compact rotary helm unit, 3 turns lock-to-lock for standard travel, standard 90° Safe-T bezel, stainless steel cable output ends, and standard 3/4" tapered shaft. Recommended for single engine boats up to 24' with steering wheels up to 16". Exceeds BIA certification requirements and ABYC safety standards. Available in 9' - 18' lengths.
Applications:
Virtually all power assisted sterndrive boats with steering wheels up to 16" diameter. Safe-T QC replaces all Teleflex Safe-T helms made since 1968 with little or no dash modifications. (Requires use of SSC62 QC or SSC61 QC II steering cable.) For single station use only. Safe-T QC accepts wheels up to 16" diameter..
FEATURES:
Quick-response of 3 turn lock-to-lock.
Standard 3/4" round tapered steering shaft
Stainless steel cable output ends.
Fast, easy installation: uses simple snap-in connection, Teleflex Quick Connect (QC) cable and industry standard Safe-T mounting hardware
Kits include: cable, helm, bezel, hardware and instructions
Meets A.B.Y.C. standards
Meets N.M.M.A. certification requirements.
Components are available for dual cable systems, but it is recommended to use No-FeedBack steering for all dual cable steered, non-power-assisted outboards and sterndrives.
For a Big-T dual station steering system, the cable required is SSC81AxxBxx, where xx = the lengths of the two cable sections in feet. The letter "A" in the part number represents the cable routing path distance between steering stations. The letter "B" represents the cable routing path distance from the lower station to the engine/rudder area. The different cable lengths are available in one-foot increments only. EXAMPLE: if the cable routing from engine to lower station is 18 feet and 10 feet from station to station, order part number SSC81A10B18 cable.
Cable Measurement: Dual Stations
Path "A":
Center line of upper station wheel to center
line of lower station wheel
Path "B":
Center line of lower station wheel to
cable connection at centered tiller.
Centerline of boator
Centered tiller
Additional Information
| | |
| --- | --- |
| Manufacturer | Teleflex Marine |
| Manufacture Part Number | TEL-SS13708,TEL-SS13709,TEL-SS13710,TEL-SS13711,TEL-SS13712,TEL-SS13713,TEL-SS13714,TEL-SS13715,TEL-SS13716,TEL-SS13717,TEL-SS13718,TEL-SS13719,TEL-SS13720,TEL-SS13721,TEL-SS13722, TEL-SS13723 |
| UPC | 731957087591 |
| ASIN | B0000AXUAR |
| Warranty | Manufacturers |
Reviews
How To Measure
How to Measure Steering Cables "Measure Twice. Order Once."
Replacement of Existing Cable: If possible, find the part number stamped on the plastic jacket of the old cable. If you removed the old cable, measure for the replacement cable as follows:

For Rotary Steering Cable Replacement, Measure Existing Cable as follows: Measure plastic cable jacket ("Y" dimension, shown in above drawing) in inches, add 18″, and round up to next foot. Order that length cable.
New Installation: Measure cable routing path from wheel center line to engine connection, as follows: A = Center line of wheel to gunwale (or deck, if routed downward), B = Dash to transom, C = Gunwale to centerline of cable connection at centered tiller.
For Cable Installations through the Engine Tilt Tube: Add A, B & C + 6″, then round up to the next foot. Order that length cable.
For Cables Mounted to Transom, Splashwell or Stringer: Add A, B & C, then subtract 6″ and round up to the next foot. Order that length cable.
TYPICAL SINGLE STATION ROUTING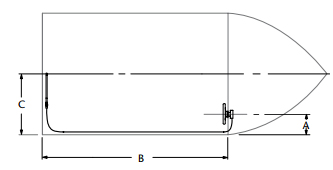 A single-cable, starboard drive push-pull mechanical cable system is shown in this diagram. If your mechanical system is different than the one depicted and/or you have any questions about mechanical steering after reviewing this guide, please contact Teleflex (Mechanical) Technical Service at (610)-495-7011 or www.teleflexmarine.com
Cable routings (such as those found on pontoon boats) may vary from this drawing. Confirm length by laying a garden hose or similar object) along cable path and measure run from wheel to engine connection point.