Product Description
| SKU | Cable Length | Retail Price | Our Price | Savings | |
| --- | --- | --- | --- | --- | --- |
| TEL-SS15212 | 12' | $594.15 | $432.79 | You Save 27% | |
| TEL-SS15213 | 13' | $593.52 | $437.28 | You Save 26% | |
| TEL-SS15214 | 14' | $599.69 | $441.78 | You Save 26% | |
| TEL-SS15215 | 15' | $634.29 | $466.96 | You Save 26% | |
| TEL-SS15216 | 16' | $640.75 | $471.66 | You Save 26% | |
The only Rack and Pinion steering system for the high performance boater. The No FeedBack technology has been combined with the incredible precision and control of a dual cable rack and pinion system. Now more than ever, NFB means performance! The Pro Rack is offered for high performance hulls and motors - boats which have engine flutter, experience instability or simply need that extra margin of control at the helm. It's a drop-in replacement for teleflex "The Rack".
Applications:
NFB Pro Rack systems are suitable for single-station, high performance boats equipped with a single non-powwer-assisted outboard (up to V-6) in wich engine flutter or steering instability is present. NFB Rack accepts steering wheels up to 16" diameter. New Back Mount design means easy in stallation; helm & cable are installed as a unit from behind dash and replace standard Teleflex rack steering with out dash modifications.
Features:
Patented No FeedBack™ Steering mechanism.
Dual Cables minimize lost motion in system.
Precise feel of 4 turns from lock-to-lock.
Minimal clutch free play.
Standard 3/4" round tapered steering shaft.
Stainless steel cable output ends.
Fast, easy installation; back mount design allows quick placement in dash PLUS mounting hardware fits industry-standard Teleflex and Morse rack holes.
Kits include: cable, helm, 90° bezel and hardware.
Meets A.B.Y.C. standards.
Meets N.M.M.A. certification requirements
Additional Information
| | |
| --- | --- |
| Manufacturer | Teleflex Marine |
| Manufacture Part Number | SS15210.1 |
Reviews
How To Measure
How to Measure Steering Cables "Measure Twice. Order Once."
Replacement of Existing Cable: If possible, find the part number stamped on the plastic jacket of the old cable. If you removed the old cable, measure for the replacement cable as follows:

For Rack Steering Cable Replacement, Measure Existing Cable as follows: Measure plastic cable jacket ("Y" dimension shown in above drawing) in inches, add 30″, and round up to next foot. Order that length cable.
New Installation: Measure cable routing path from wheel center line to engine connection, as follows: A = Center line of wheel to gunwale (or deck, if routed downward), B = Dash to transom, C = Gunwale to centerline of cable connection at centered tiller.
For Cable Installations through the Engine Tilt Tube: Add A, B & C + 6″, then round up to the next foot. Order that length cable.
For Cables Mounted to Transom, Splashwell or Stringer: Add A, B & C, then subtract 6″ and round up to the next foot. Order that length cable.
TYPICAL SINGLE STATION ROUTING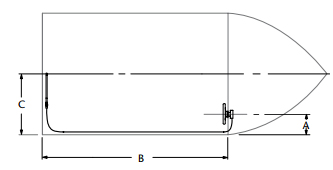 A single-cable, starboard drive push-pull mechanical cable system is shown in this diagram. If your mechanical system is different than the one depicted and/or you have any questions about mechanical steering after reviewing this guide, please contact Teleflex (Mechanical) Technical Service at (610)-495-7011 or www.teleflexmarine.com
Cable routings (such as those found on pontoon boats) may vary from this drawing. Confirm length by laying a garden hose or similar object) along cable path and measure run from wheel to engine connection point.