Product Description
| SKU | Select Your Cable Length | Retail Price | Our Price | Savings | |
| --- | --- | --- | --- | --- | --- |
| tel-SS13210 | 10' | $280.42 | $183.40 | You Save 35% | |
| tel-SS13211 | 11' | $283.46 | $185.38 | You Save 35% | |
| tel-SS13212 | 12' | $286.52 | $187.38 | You Save 35% | |
| tel-SS13213 | 13' | $289.60 | $189.40 | You Save 35% | |
| tel-SS13214 | 14' | $292.66 | $191.40 | You Save 35% | |
| tel-SS13215 | 15' | $295.69 | $193.39 | You Save 35% | |
| tel-SS13216 | 16' | $298.75 | $195.39 | You Save 35% | |
| tel-SS13217 | 17' | $301.79 | $197.37 | You Save 35% | |
| tel-SS13218 | 18' | $304.87 | $199.39 | You Save 35% | |
| tel-SS13219 | 19' | $307.91 | $201.37 | You Save 35% | |
| tel-SS13220 | 20' | $310.99 | $203.39 | You Save 35% | |
This is the next generation of Safe-T, the world's #1 rotary steering system - rugged, compact, lightweight, and with the No FeedBack technology. This ultra-smooth 3-turn system takes the work out of steering most V-4 outboard powered boats. The Safe-T II helm is a drop-in replacement for current generation Safe-T QC with no dash modifications!
Applications:
NFB Safe-T II single-cable systems are suitable for most single-station boats with a single non-power-assisted outboard engine up to V-4 and minimal engine flutter or steering instability. Safe-T II accepts steering wheels up to 16" diameter. ( NFB Safe-T II is available in single cable configuration only). Replaces nearly all standard Safe-T Steering without dash modifications.
Features:
Patented No feedBack Steering mechanism.
Quick response of 3 turns lock-to-lock.
Minimal clutch free play.
Standard 3/4" round tapered steering shaft.
Stainless steel cable output ends.
Fast, easy installation: uses Quick Connect (QC) cable.
Kits include: cable, helm, 90 degree bezel and hardware.
Meets A.B.Y.C standards.
Meets N.M.M.A. certification requirements.
Additional Information
| | |
| --- | --- |
| Manufacturer | Teleflex Marine |
Reviews
How to Measure
How to Measure Steering Cables "Measure Twice. Order Once."
Replacement of Existing Cable: If possible, find the part number stamped on the plastic jacket of the old cable. If you removed the old cable, measure for the replacement cable as follows:

For Rotary Steering Cable Replacement, Measure Existing Cable as follows: Measure plastic cable jacket ("Y" dimension, shown in above drawing) in inches, add 18″, and round up to next foot. Order that length cable.
New Installation: Measure cable routing path from wheel center line to engine connection, as follows: A = Center line of wheel to gunwale (or deck, if routed downward), B = Dash to transom, C = Gunwale to centerline of cable connection at centered tiller.
For Cable Installations through the Engine Tilt Tube: Add A, B & C + 6″, then round up to the next foot. Order that length cable.
For Cables Mounted to Transom, Splashwell or Stringer: Add A, B & C, then subtract 6″ and round up to the next foot. Order that length cable.
TYPICAL SINGLE STATION ROUTING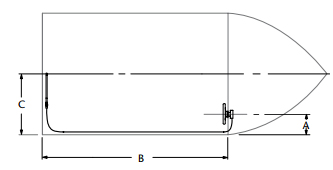 A single-cable, starboard drive push-pull mechanical cable system is shown in this diagram. If your mechanical system is different than the one depicted and/or you have any questions about mechanical steering after reviewing this guide, please contact Teleflex (Mechanical) Technical Service at (610)-495-7011 or www.teleflexmarine.com
Cable routings (such as those found on pontoon boats) may vary from this drawing. Confirm length by laying a garden hose or similar object) along cable path and measure run from wheel to engine connection point.