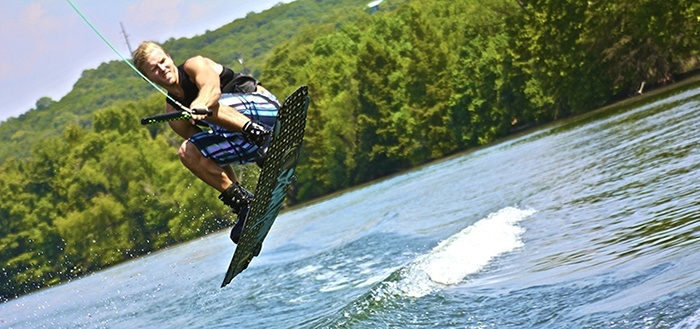 Wakeboarding 101
Maybe you have seen other boaters and their passengers enjoying the exhilarating sport of wakeboarding and want to know more. Wakeboards have been around for over 30 years and are a surface water sport that is gaining in popularity faster than any other. This is because it is easy to master the basics, wakeboards are relatively inexpensive, and are sized for every member of the family.
The boards are made from foam that has been molded into a honeycomb shape, blended with resin and coated with fiberglass. As the name implies, riders edge their way to cut the wake and to move in and out of the wake without falling. Jumps are performed by hitting the wake and launching the board. At championship levels it is a sport that requires great skill, however many families enjoy a lazy day on the water, just towing a wakeboard rider without performing stunts.
Wakeboards for Competition and Recreation
Whatever your level of proficiency, amateur or true enthusiast, Wholesale Marine can will have the right board for you. If you thinking about trying wakeboarding, here are some fun facts about the sport to inspire you to get going and get a wakeboard!
The sport was developed to combine elements of water skiing, snowboarding and surfing techniques.

Riders are towed behind a motorboat just as in waterskiing. Tricks may be performed on wakeboards by lying down, kneeling, or standing.

Wakeboarding was introduced at the First World Skiboard Championships on the Hawaiian island of Kauai.

Wakeboarding is an official sport. It is recognized by several international watersport organizations and has been part of the World Games since 2005 where it is listed under the trend sports
Wakeboarding was originally called skurfing and rose to popularity in the late 1980s along with the popular winter sport from which it was derived, snowboarding.
Wholesale Marine not only carries marine supplies but also an extensive line of popular recreational gear as well. We stock the best brands in wakeboards such as OBrien, Liquid Force, Hyperlite and SWB. If you have a question as to which model is right for you, well be glad to assist! Call us Monday through Friday from 9:00 AM until 6:00 PM at (877) 388-2628.