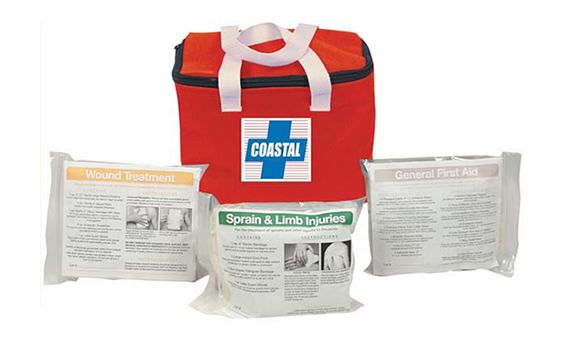 First Aid Boat Safety Guide
Key to enjoying season after season on the water is to take that ounce of prevention before you embark at the dock or marina. It is true that it is always better to be safe than sorry. For boaters, this means taking a certified class in boat safety procedures as well as classes in first aid. These classes are required in most states by the United States Coast Guard and may be taken in the off season as well as online and will provide both first aid knowledge and additional peace of mind.
A well-stocked first aid kit is also a must. Wholesale Marine understands that the passenger care needs of recreational boaters and those of sport fishermen will differ and offers a selection of first aid kits stocked with appropriate medical supplies. The AMK Sportsman Bighorn Series Medical Kit anticipates the type of injuries that could be sustained on a fishing or hunting expedition. The kit is well-stocked with medical supplies that are labelled to provide care for a specified injury. This takes any guesswork out of providing prompt treatment.
Another item that deserves consideration in any boat safety kit, is the Orion Voyager First Aid Kit. This kit secures the supplies necessary for general first aid, burn treatment, eye first aid, CPR and shock treatment, sprain and limb injuries, medication, and wound treatment in individually-labelled, waterproof packs. Each pack contains easy to read, step-by-step instructions, too. The contents are housed in a waterproof, highly-visible, safety-orange zippered bag that can be located quickly in a medical emergency.
Tips for Upgrading Your Boats First Aid Kit
If it is not possible to upgrade or replace your first aid kit at this time, here are some ideas to supplement your current kit so youll be prepared should a medical emergency or simple bump or bruise, occur. Once you are off shore, any injuries that occur must be attended to on board, as you might not be near help. Here is a brief list to supplement even the best stocked boat safety kit:
Petroleum jelly: great for treating wind burn, chapped lips and seals older burns to aid the healing process.

Safety pins: great even for non-medical emergencies.

Curved scissors: cut bandages and prevent further injuries.

Sunscreen: sun or wind burns have ruined many a boating excursion. Keep a supply on board!

Insect repellent and an Epi pen

Duct tape

Bottled water

Tweezers: use for removing splinters

Sea sickness tablets
Wholesale Marine carries an extensive line of first aid kits for every type of craft. If you have any questions about boat safety, well be glad to assist you, Monday through Friday from 9:00 AM until 6:00 PM at (877) 388-2628.