Best Wakeboards for Beginners
Wakeboarding is an exhilarating watersport that's easy to learn and difficult to master. Adults and children alike can enjoy boosting off the wake behind the boat. If you're looking to make your summers more exciting, consider picking up a wakeboard for your family to enjoy.
It's easy to feel overwhelmed when trying to pick out your first wakeboard. Boards range in sizes and features and are available from a variety of manufacturers. With so many options, choosing your first wakeboard can seem like a daunting task. Don't worry – in this article, we'll be looking at some great beginner boards and offering tips for shopping.
Things to Keep in Mind When Buying a Wakeboard
The most important thing to keep in mind when selecting a wakeboard is who will be riding it. Will the board only be ridden by one person? The whole family? This information will impact what size board you'll want to purchase. Typically, the heavier the rider, the longer the board. Depending on the age of the rider, you may want to consider wakeboards designed specifically for children .
In addition to your rider's weight, you'll also need to consider their shoe size. Most wakeboard boots are adjustable, so they cover a range of sizes. Properly fitting boots will give the rider more control and make the experience much more comfortable. Wakeboards are often packaged with boots that are appropriate for the skill level of the board. Buying a packaged set is often a cheaper and more convenient option.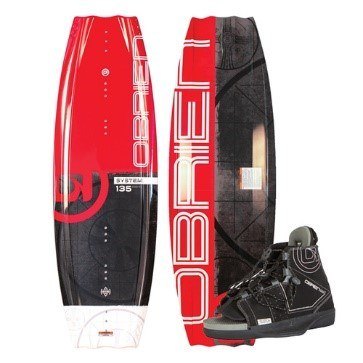 O'Brien System Wakeboard
The O'Brien System wakeboard offers performance at an affordable price. This beginner wakeboard is extremely consistent, easy to control, and pops off the wake smoothly. For riders who have never tried wakeboarding, the System makes getting up out of the water effortless. If you frequently have guests onboard, the O'Brien System can be a great way to introduce friends to wakeboarding. This board comes packaged with the lightweight and comfortable Clutch bindings.
Hyperlite State 2.0 Wakeboard
If you're getting a wakeboard for multiple riders, consider the HyperliteState 2.0. This beginner-friendly wakeboard offers a solid wakeboarding foundation. It is also packed with features like an abrupt continuous rocker that provides more pop for high-air tricks. This board is perfect for a family that has younger riders that may want to do more tricks, as well as older riders who want a more relaxed ride. The Hyperlite State 2.0 is available with the Frequency Boots, which are a one-size-fits-all pair of wakeboard bindings.
Connelly Pure Wakeboard
The Connelly Pure wakeboard provides an easy, stable ride for beginners. The 3-stage rocker is blended for the perfect combination of predictability and pop off the wake. This wakeboard is stable enough for beginners, but also has enough pop for intermediate riders looking to learn more difficult tricks. The Pure is typically packaged with the Venza boots. These boots are comfortable and are designed to fit a wide variety of foot sizes.
Must-Have Wakeboard Accessories
Now that you have your first wakeboard picked out, don't forget to pick up some must-have accessories. A wakeboard rope is necessary for towing the wakeboard rider behind the boat. For beginners, a standard rope and handle combo like the Hyperlite CG Wakeboard Handle with Poly-E Line will work just fine.
Keep your investment protected by picking up a wakeboard bag. These bags make transporting your board and gear easy and provide a protective barrier between your board and damaging surfaces. The Hyperlite Essential Wakeboard Bag is an economical choice for storing and transporting your gear.
With your board, boots, rope, and bag, you're now ready to experience the thrill of wakeboarding behind a boat. If you're still not sure which beginner wakeboard would be best for you, give us a call. Our boating enthusiasts are available Monday through Friday, 9AM to 4PM EST at 1-877-388-2628. They can answer any additional questions you may have regarding wakeboards and wakeboarding equipment.