Power House 3/4 HP Ice Eater w/ Cord
Power House 3/4 HP Ice Eater w/ Cord
Product Description
Power House 3/4 HP Ice Eater P750 w/ Power Cord
When water freezes, it expands, becoming lighter. This fact is the principle upon which Ice Eater functions. Ice Eater circulates warmer bottom water to the top, thereby preventing ice formation. If surface ice already exists, the flow of warmer bottom water will effectively melt it. Ice Eater obtains its superior operating efficiency through the use of an axial flow, shrouded propeller design.
Propeller: is custom designed for maximum thrust and performance.Propeller screws on shaft for easy removal and replacement.
Motor Housing:constructed of 16 gauge 304 stainless steel and bronze endbell for corrosion free operation in fresh and salt water. Motor exceeds NEMA specifications and is UL and CSA compliant and C.E. certified.
Motor Shafts: Motor shafts is 316 stainless steel, the best material for salt water application.
Split Capacitor: Ensures quick high torque and smooth operation, while producing the highest efficiency of a single phase induction motor.
Specifications:
.75HP
115 or 230 Volt
4.7/2.35 Amps
Single phase
50/60 cycle
Open diameter: 60'
Lbs of thrust: 32
Available with 25' cord and 50' cord
Installation Instructions:
Install the Ice Eater by hanging it in the area to be kept clear of ice.
Plug the electrical cord into a corresponding 115 or 230 volt receptacle.
NOTE: When an extension cord is used, it must be sized as follows:
Up to 100 ft. - Use #12/3 wire cord.
Up to 200 ft. - Use #10/3 wire cord.
Ice Eater may be hung from a pier or from a boat.
Place Ice Eater at a depth which produces best results for each specific location (two - three feet is a good average operating depth).
If a circular pattern of de-icing is desired, hang Ice Eater straight.
Note: For straight hanging, use top rim holes A & B shown in figure 3.
If elongated pattern of de-icing is desired, hang Ice Eater at an angle.
The Ice Eater should be removed from the water, cleaned and stored PROP SIDE DOWN during non-freezing months, in a cool place. Storing prop side down will keep the seals lubricated.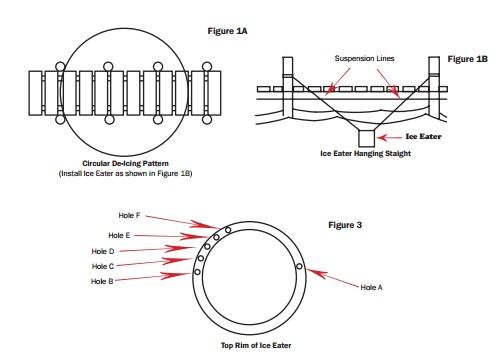 California Residents:

WARNING
Cancer and Reproductive Harm -
P65Warnings.ca.gov
.
Warranty Information
3 Year Limited Manufacturer Warranty
Other Details
Google Product Type:
Ice Eaters & Aerators
Find Similar Products by Category
Related Products