Find the Right Bottom Paint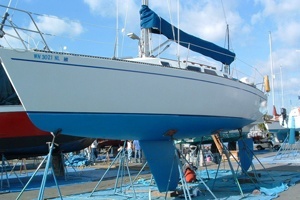 You know that slime, weeds, and barnacles (also known as fouling) arent just unsightly- marine organisms can also affect your boats performance and durability. When your boat bottom requires maintenance, turn to the pros at Wholesale Marine. Our Antifouling Bottom Paints feature anti-fouling for racing sailboats and powerboats, multi season protection, and paints for any kind of boat you can imagine. Rest assured that Wholesale Marine only carries the best brands and paint products tough enough to withstand frequent trailering, launching and beaching in whatever craft you own.
Take the Guesswork Out of Paint Selection: Use Wholesale Marines Bottom Paint Guide!
How do you know if you need a Hard Bottom or Ablative Bottom Paint? Hard Bottom Paints have a higher concentration of biocides, and form a tough coating that does not wear away. Hard Bottom Paints are generally recommended for boats that are faster and kept in the water. Ablative Bottom Paints have layers that slowly wear down over time, revealing fresh biocides, reducing oxidation, but due to its limited life, Ablative Bottom Paints are thereby recommended for boats stored out of water.
Interlux Antifouling Bottom Paints can reduce friction and improve fuel efficiency. Interlux uses metallic copper to achieve complete protection in freshwater or low fouling saltwater. Interlux features its renowned Micron technology that provides excellent, long lasting antifouling protection by using less copper more efficiently than traditional high copper bottom paints. Micron 66 is recommended for use in saltwater only, however Micron CSC, a best seller, works well in all water conditions. New copper-free environmentally-friendly Micron CF features Econea instead of copper and Biolux Anti-Slime Agent. VC17m is #1 for racing sailboats in freshwater.
Pettit Paints feature the ideal combination of high-speed performance and durability with environmental responsiveness. Racing and recreational finishes are easy to apply and quick to launch. Pettit Paints offers durable multi-season protection.
Aquagard Antifouling Bottom Paints are available in spray and regular form. Their Marine grade Anti-foulant paints are great for usage in both fresh and saltwater, provide barriers to inhibit the growth of algae, are water based, and some even aid in improving depth sounder and fish finder performance.
Weve given you a wealth of information but there is no need to memorize it. Just consult our step-by-step guide to select just the right paint product for your vessel. And if you are still uncertain which paint to purchase or just want to speak to another boating enthusiast, call us toll-free weekdays from 9:00 AM to 6:00 PM EST at (877) 388-2628. The right paint for your boat is just a few clicks or a phone call away!